Service offer : towards a circular economy
At a time when 90% of Brussels' consignments are still transported by lorry, the port is an essential instrument to relieve congestion in Brussels and meet the climate challenges that lie ahead. 
The Port of Brussels provides warehouses, offices and land for companies planning to develop in the heart of the capital. Since April 2006, concessionaires at the Port of Brussels have even been able to benefit from a bonus for their staff recruitment. 
At the same time, the Port puts interested companies in contact with a transport expert as well as a logistics facilitator to help them adopt or extend the use of water transport for their goods.
Recruitment bonus
The Port is an integral part of the City and belongs to the people of Brussels, for whom it also provides employment!
There are all kinds of jobs and careers on the site accessible to all Brussels residents, regardless of their qualifications! Since April 2006, concession companies in the Port of Brussels have been able to benefit from a recruitment bonus.
Discover all the details of the staff recruitment bonus, here !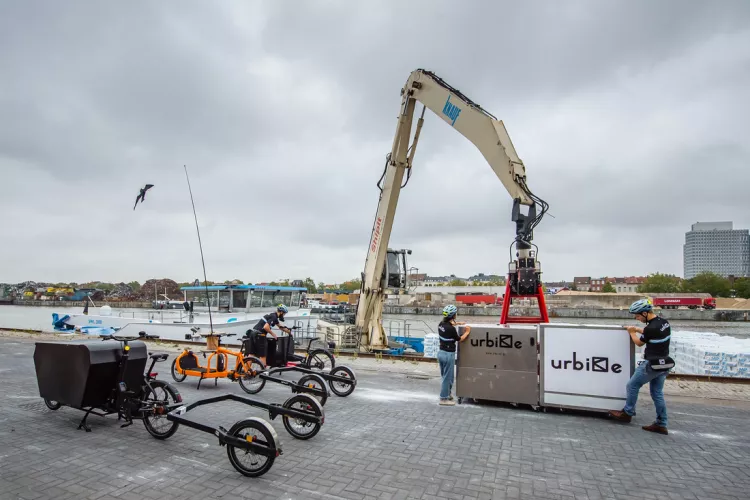 Tell a local from Brussels that one barge on the canal is equivalent to between 40 and 100 lorries on the streets of Brussels and you'll certainly hear some Ooooohs and some Aaaaahs. Along with the odd 'Are you serious?'!
In order to reduce the number of vehicles in the city, the Port has set up so-called urban distribution centres (UDCs). The goods arrive there by lorry or boat and are reconditioned for distribution within the city centre by van, but also by electric bike and…wait for it… shortly by drone!
To diversify and encourage traffic on its canal, the Port of Brussels has also developed urban transhipment centres (UTCs), platforms for the transhipment of goods, pallets, etc.
Is your business keen to completely rethink its flow of goods? Experts from Tractable Engineering will conduct a free screening of your company to determine the changes required and how to implement them.
Interested? Contact our experts: logistics.facilitator@port.brussels.
The TIR (International Road Transport) Logistics Centre is a warehousing complex located on the Port of Brussels domain.
160,000 m² of warehousing and offices within reach of the canal, the city centre and the Brussels ring road! With storage facilities ranging from 75 to 10 000 m², the complex is the ideal base for companies wishing to put some wind in their sails. Furthermore, the site also allows palleted goods to be transferred directly from river to road!
The Port of Brussels is a trimodal container terminal (water, rail, road) too, operated by Trimodal Terminal Brussels (TTB), a full subsidiary of Van Moer Logistics and also active in Antwerp. The terminal provides a connection with the Port of Antwerp, just 5 hours up the river. In 2020, the terminal took care of more than 42,000 TEUs (twenty-foot equivalent: standard container measurement).