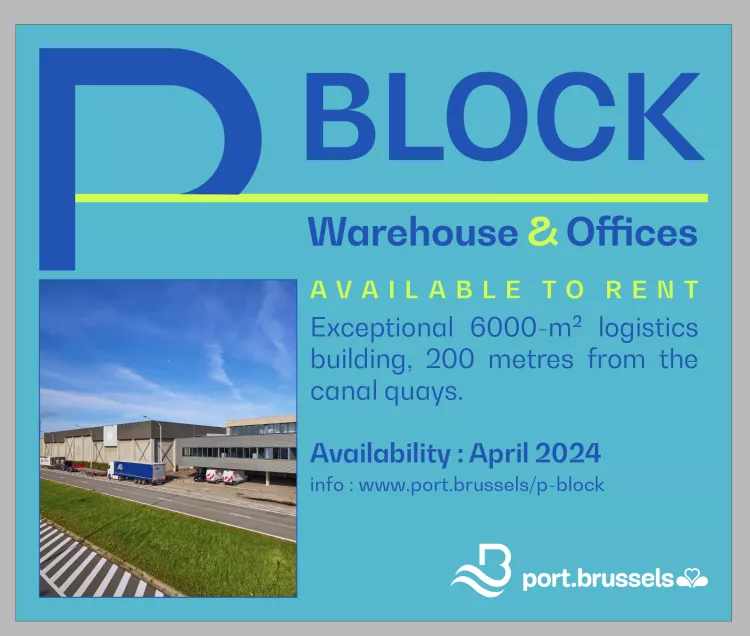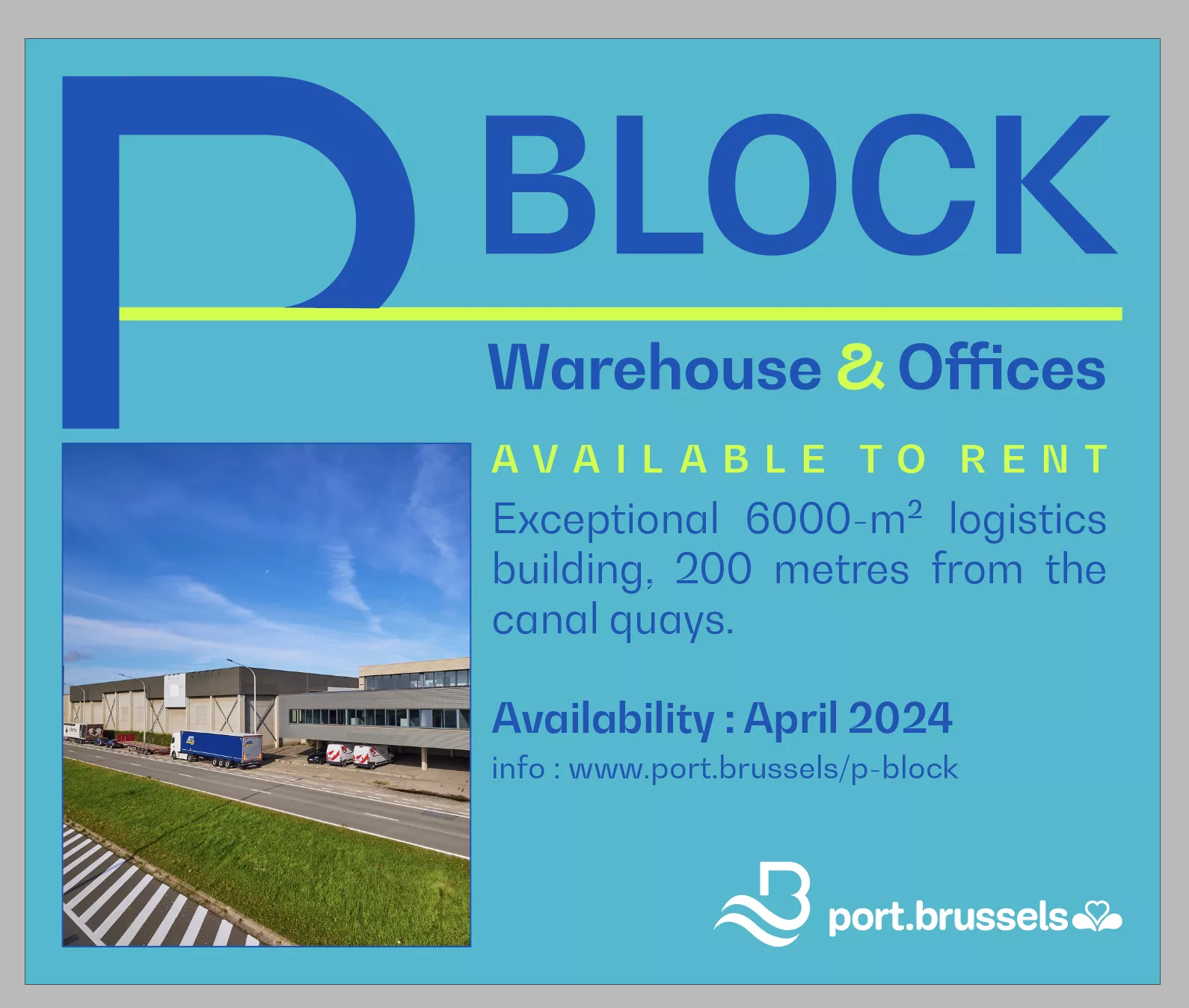 The Port of Brussels is launching a call for projects for the domain concession of an area including a superb logistics building and open-plan offices located on the right bank at the outer harbour. A total surface area of 6,097.5 m² for the building and 2,508.5 m² of land, with the option of a further 726 m² for parking. A loading and unloading area of 1,093.4 m² is planned, with 11 quays and an entrance on ground level.
The complex is ideally located just 200 m from the port quay and one kilometre from the container terminal offering exceptional multimodal services (waterway, rail, road). The P Block (Warehouse & Offices) is ideal for developing sustainable urban logistics activity linked to the canal and serving the Brussels-Capital Region.  
The advantages
All the advantages of the logistics and business HUB that is the Port of Brussels, and particularly the outer harbour:
unique trimodal logistics node in the Brussels Region: river-sea/road/rail;

one of the few business parks classified as an economic, port and transport activity zone (ZAPT);

significant interactions with the Port of Brussels Port Community;

located less than a kilometre from the container terminal and 200 metres from the quays and waterway;

access to and location within the Brussels Ring;

at the economic heart of the Brussels Region: 200 companies and 9,000 direct and indirect jobs   
All the advantages of the building and land:
modern, very well-built logistics building;

warehouse clearance heights from 6 m to 11.5 m, ideal for intensive, efficient logistics operations;

storage racks available;

11 unloading docks and 2 level accesses;

just under 1,000 m2 of office space and high-quality sanitary, communal and technical facilities;

very pleasant open-space offices with plenty of natural light;

parking spaces in front of and behind the building.
Visit by appointment.
Applications must be sent electronically (ldonck@port.brussels) no later than 12pm on 16/02/2024 to the attention of: Mr Gert Van der Eeken, General Manager  - Place des Armateurs 6, 1000 Brussels - Belgium
Contact persons:
Mr Luc Donck
Project Manager
Port of Brussels                                                     
Tel: +32 (0)2 421 66 38
ldonck@port.brussels              
Ms Valérie Tanghe
Port Cluster Manager
Port of Brussels      
Tel.: +32 (0)2 421 66 50
vtanghe@port.brussels